« August 2009 | Main | September 2010 »
June 20, 2010
names in my family
I geek out over genealogy research from time to time, and have built up a pretty big family tree on ancestry.com. Today for fun I figured out how to download the tree in GEDCOM format, which is text-based and allowed me to export a list of unique family names from the tree. I have no idea why any of you would be interested, but here it is:
Angel
Arthur
Atkinson
Banie
Bayley
Berry
Bockman
Boyle
Braden
Brown
Browning
Carson
Chamberlain
Champney
Cochran
Coleman
Connell
Cook
Coppley
Courtney
Dabney
Davis
Dewberry
Duncan
Evans
Feuge
Floyd
Gadberry
Gregory
HUMPHREY
Hampton
Hatchett
Hooper
Hopson
Horseman
Horsman
Huggard
Hughart
Hughes
Hughhart
Humphrey
Hutcheson
Hutt
Indian
Jackson
Johnson
Jones
Keyes
Kirk
Lackey
Lawson
Lay
Lee
Leythall
Lide
Lloyd
Loyd
Lynch
Margaret
Mary
Mc Phail
McBee
McClanahan
McIlvain
McMillan
McMurde
McPhail
Mitchell
Mooney
Nall
Norman
Norton
Nosley
POTEET
Pape
Powell
Price
Rawley
Rusche
Sagebiel
Savage
Scissen
Scott
Shepard
Shepherd
Sherrill
Smith
Stricklin
Strother
Sullivan
Thompson
Tillett
Trammell
Trout
Turley
Wade
Whaley
Williams
Wilson
Wood
Think you might be related to me? You can do what I did and get a DNA test through
familytreedna.com
and see if we match up.
:)
Posted by ljh at 8:31 AM
June 9, 2010
Geeks and Nerds
Love me some Venn diagrams, especially when they're this funny! Thanks, xkcd...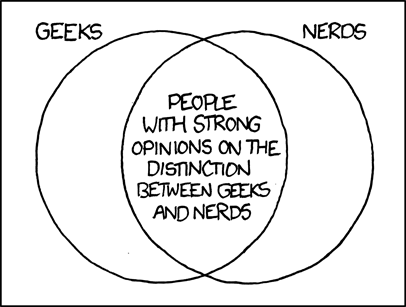 (Via xkcd.com.)
Posted by ljh at 9:28 AM